Home Theater
I got into home theater stuff a few years ago. I've always loved movies and wanted to watch them in a theater-like experience. So I put this together...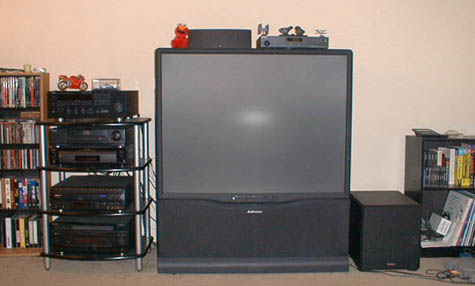 I started with a Mitsubishi 50" rear projection, 5 JBL speakers (3 fronts and 2 rears) and a Paradigm subwoofer. The subwoofer makes a huge difference in the whole home theater experience. You can actually "feel" explosions on-screen.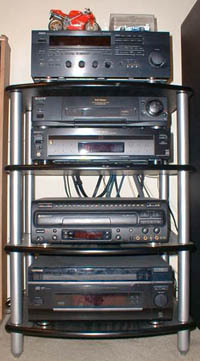 Here are my components...
I have a Yamaha RX-V890 Receiver, Sony SLV-940HF VCR, Sony DVP-S7000 DVD player, Pioneer CLD-V850 LD player, and a Kenwood DP-J2070 100 CD Changer. Everything is connected with Monster Cables.
Before you ask... I got the receiver before Dolby Digital was available so I want to upgrade my receiver soon. I also got my LD player a really, really long time ago and don't use it much now that I have a DVD player. I have about 70 LD's and about 80 DVD's. I gave away some LD's when the movie came out on DVD. Damn 20th Century Fox and George Lucas for not releasing Star Wars on DVD.